LUNCH & DINNER MENU
DOWNLOAD OUR LUNCH & DINNER MENU
snacks
PUB WINGS $16
10 chicken wings served "Dirt Style" with celery
and ranch or blue cheese dressing.
* Sauces: Nashville Hot, BBQ, Buffalo, Thai Chili, Garlic Parmesan, or Atomic
STREET CORN NACHOS $15
Corn tortilla chips smothered with homemade nacho cheese, shredded lettuce, fresh pico de gallo, roasted corn, avocado crema and topped off with spicy cotija cheese.
* Grilled Chicken +$4/ Shrimp +$5/ Pulled Pork +$4
ICON PRETZEL $12
Handcrafted Bavarian style pretzel served with AIB Factory Pilsner beer cheese & Icon IPA stone ground mustard.
SRIRACHA DEVILED EGGS $9
A half dozen Sriracha and blue cheese dressing deviled eggs, with peppered candied bacon, cilantro, and chives.
COCONUT SHRIMP $13
8 coconut shrimp fried crispy and served with Thai chili sauce.
SPINACH DIP $14
Loaded with artichoke and a four cheese blend packed in a sourdough bread bowl, served with tortilla chips and veggies.
TUNA TOSTONES $15
Tostones cups packed with marinaded tuna, avocado, wasabi crema, nori, and sriracha served over a bed of wakame salad.
MAHI TACOS $15
Three blackened Mahi tacos filled with shredded lettuce, pickled red onion, topped with Old Bay aioli, and fresh pico de gallo.
PULLED PORK TACOS $12
Three homemade mojo marinated pork tacos filled with shredded lettuce, topped with Maui sauce, and grilled pineapple mango salsa.
BUFFALO CAULIFLOWER $12
Tempura fried cauliflower tossed in our AIB buffalo sauce with scallions and blue cheese crumbles sprinkled throughout.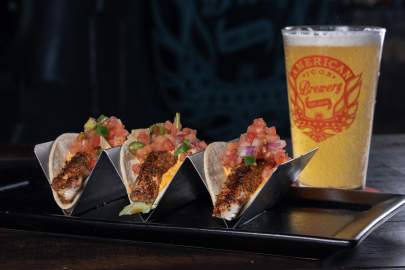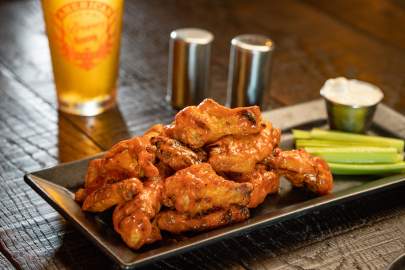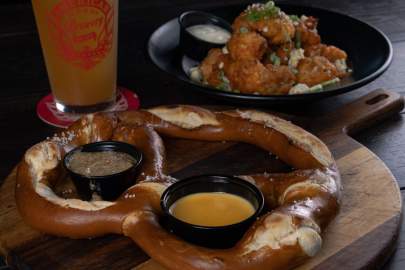 burgers and handhelds
We use the best quality beef available, sourced from Buckhead Pride here in Florida. The specialty blend is made up of Certified Angus Beef Brand cuts of Chuck, Brisket, and Short Rib, ground to make our half pound patties.
All burgers and sandwiches are served with French Fries, Mustard Slaw, or a Seasonal Vegetable.
Upgrade to Sweet Potato Fries or Truffle Fries for an additional $2.
Substitute any Burger for a Beyond Burger for $3.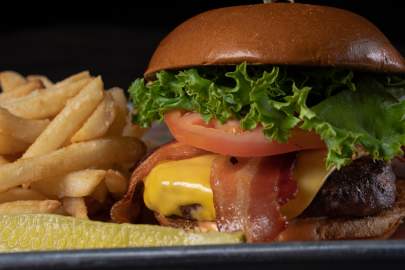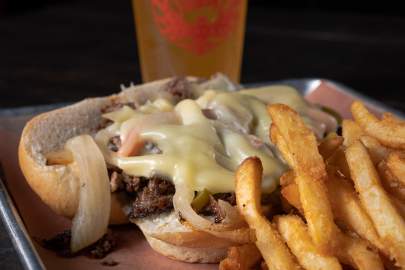 DRY AGED BURGER $19
Brasstown dry aged beef topped with crispy prosciutto, smoked gouda, garlic aioli, arugula, and parmesan crisp served on a brioche bun.
THE FUN-GUY BURGER $17
Chargrilled and topped with candied mushrooms
and bourbon bacon aioli, covered with smoked
gouda, with lettuce and tomato on a brioche bun.
SPICY! THE COWBOY BURGER $17
Chargrilled and topped with fried jalapeños,pepper jack cheese, 7 pepper candied bacon, BBQ sauce, avocado crema, lettuce and tomato on a brioche bun.
THE ICON BURGER $16
Chargrilled to order topped with lettuce, tomato,
smoked bacon, AIB sauce, and choice of cheese, on
a brioche bun.
LAMB BURGER $18
Hand-pattied Australian Lamb, feta cheese, arugula,
pickled red onion, roasted garlic & tomato hummus
served on an English muffin.
NEW HALF RACK OF BABY BACK RIBS $18
Slow-roasted pork ribs served with a side of fries and coleslaw.
*Make it a Full Rack +$6
MAHI SANDWICH $16
A blackened Mahi filet cooked to perfection with lettuce, tomato, onion, and pickles, and topped with remoulade sauce on a brioche bun.
HAWAIIAN CHICKEN WRAP $14
Spinach wrap filled with grilled chicken, grilled pineapple mango salsa, homemade Maui sauce, and crisp lettuce.
* Sub Mahi +$5 or Shrimp +$4
SPICY! NASHVILLE CHICKEN SANDWICH $14
Crispy or grilled chicken breast tossed in spicy Nashville hot sauce and topped with lettuce and tomato served on a brioche bun.
PRIMO CHEESESTEAK $16
Shaved Certified Angus Beef Ribeye, drunk onions & peppers topped with melted provolone on a fresh hoagie.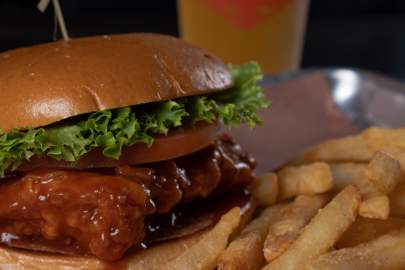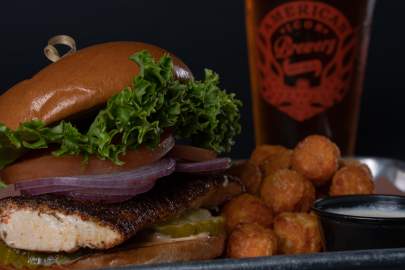 stone pizza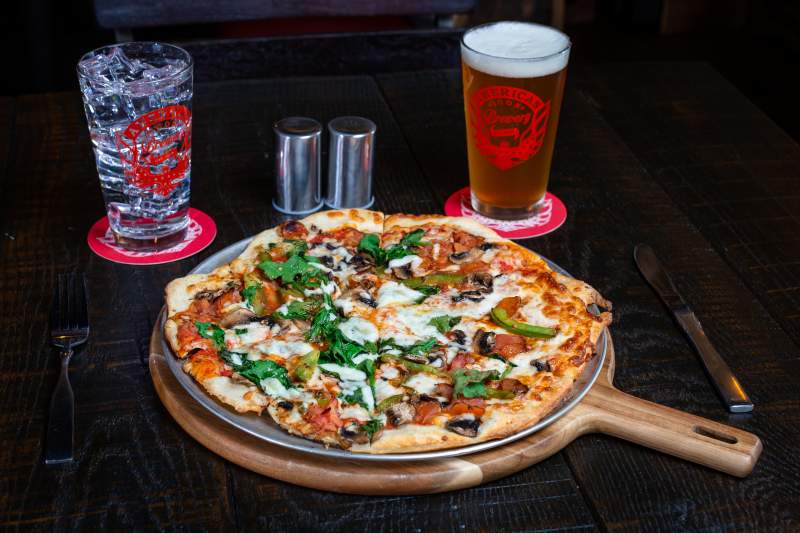 WHITE PIZZA $16
Hand tossed and topped with seasoned ricotta, roasted garlic, tomatoes, mozzarella, parmesan, and drizzled with balsamic reduction.
THE CARNIVORE $17
Hand tossed and topped with house made AIB pizza sauce, pepperoni, Italian sausage, applewood smoked bacon, and mozzarella cheese.
PEPPERONI PIZZA $16
Classic pepperoni pie with melty mozzarell and a buttery crust.
greens
ICON COBB $14
Icon salad mix with eggs, bacon, cheddar cheese, avocado, tomato, and scallions.
AMERICON CAESAR $12
Romaine lettuce tossed in Caesar dressing with shredded parmesan and croutons.
HAWAIIAN POKE BOWL $18
Ahi tuna, orzo, edamame, avocado, mango, seaweed salad, pineapple, English cucumber, poke sauce, taro chips, and spicy mayo.
STEAK RICE BOWL $19
Marinated tenderloin steak, cilantro rice, shredded lettuce, roasted tomatoes, roasted corn, pickled red onion, cheddar jack cheese with a drizzle of avocado crema.
Chicken +$4 | Shrimp +$5 | Mahi +$6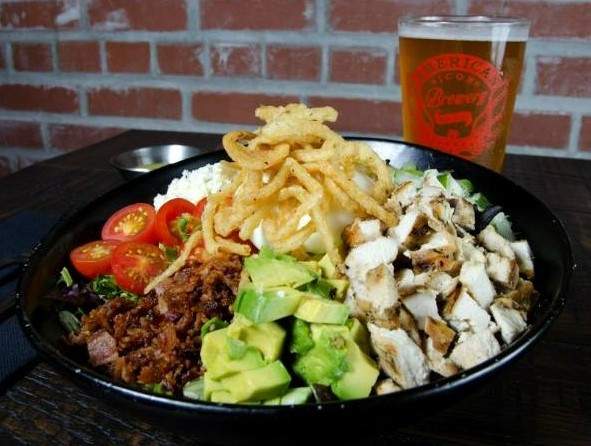 tiny humans
TINY TENDERS $6
Three hand breaded fresh tenders fried crispy and served over fries.
TINY PIZZA $6
Hand tossed and topped with house made AIB pizza sauce and mozzarella cheese.
TINY MAC $5
Kraft® Mac and Cheese served with a side of fries.
sides
FRENCH FRIES | MUSTARD SLAW
TRUFFLE FRIES | SWEET POTATO FRIES
GARDEN SALAD | SEASONAL VEGETABLES
DESSERTS
THE DUKE $8
A large Ghirardelli® double chocolate brownie served warm and topped with a scoop of vanilla ice cream, whipped cream and chocolate drizzle.
HOMEMADE APPLE CRISP $9
Scratch made Red Delicious apple crisp made with oats, brown sugar, cinnamon, and vanilla. Served with rich vanilla ice cream and caramel drizzle.
*Contains (or may contain) raw or undercooked ingredients. Consuming raw or undercooked meats, poultry, seafood, shellfish or eggs may increase your risk of food borne illness, especially if you have certain medical conditions. Before placing your order, please inform your server if a person in your party has a food allergy. Not all ingredients are listed in the menu.